Dr. Joanne Vizzini
9650 Santiago Rd., Ste 3
Columbia, MD 21045
443-831-1948
November 20, 2005
To all clients and interested parties:
Happy Thanksgiving! I am pleased to announce that I will be moving my Mt. Washington practice to a new location. The new office will be located at The Belvedere Towers, 1190 W. Northern Pkwy, Suite 118B, Baltimore, MD 21210 (still in Mt. Washington). The phone number where I can be reached is still #443-831-1948. I am keeping hours at my Columbia office, 9650 Santiago Road, Ste3, Columbia, MD, 21045. Directions to the new office are included. The move is effective November 28, 2005. If you have any questions please do not hesitate to contact me.
Sincerely,
Dr. Joanne Vizzini
Directions to Belvedere Towers:
From 695 North/East – Before juncture with 83 and From 695 South/West – Beyond juncture with 83
Take exit for 83 South, 23 A (from North- take 23A/B first) for Jones Falls Expwy (83 South) Continue on Jones Falls Expressway for several miles
Take exit 10A-10B East onto West Northern Pkwy
Turn left onto Falls Road (Route 25)
Belvedere Towers will be on the right directly after the Shell station (first driveway). If you miss it, there is an entrance to the right at the end of the building. Park at the far end of the building and enter by the glass door nearest to the café. Go through both sets of glass doors and make a left in the hallway to 118B.
<![if !vml]>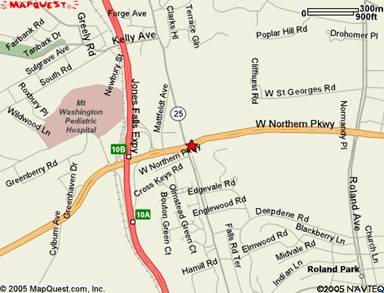 <![endif]>
---