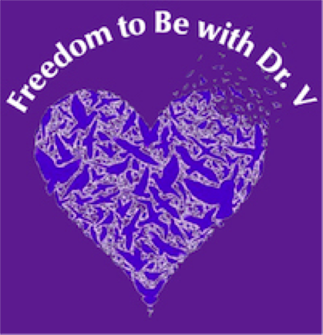 ABOUT DR. V & HER PUPPET FRIENDS
Dr. V (Dr. Joanne Vizzini) has been a puppeteer for over 35 years. Puppets are an excellent way to encourage children, teach them important lessons and keep them entertained. The child is mesmerized, laughing and learning!
Puppets add humor and allow the story to become more real for the listeners. For many years, Dr. V taught first and second grades, did parent meetings and preached with puppets in church. Her degrees in Early Childhood Education and Special Ed. have kept her aware that all children need reminders about how special they are. Puppets teach people of all ages how to treat others with compassion. Dr. V receives phone calls from attendees thanking "Cool Eugene," one of the puppets, for the insights shared and wanting to hear him sing the "Sunshine Song" to them on the phone!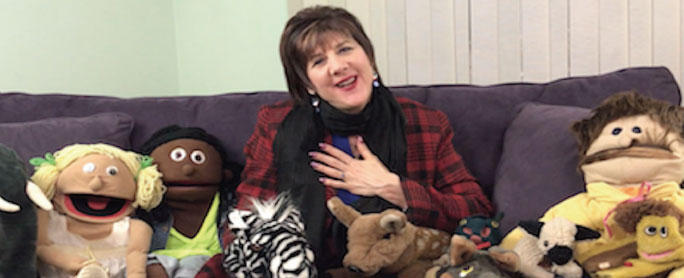 The puppet work began at Towson State University in 1980 when she received a research grant to study the effects of puppet use to educate children about mainstreaming learning disabled youth into classrooms. She went into schools and taught staff how to deal with the children's feelings. She gave workshops to librarians and to the Learning Disabilities organizations in the Baltimore area. The puppets have since been used in school settings to address topics such as bullying and smoking cessation (the teens from RICA, Regional Institute for Children and Adolescents – Baltimore, gave her a camel puppet in a little coffin box after their presentation to teach other teens and discourage smoking).
Dr. V is "OF THE HEART" and finds that having a puppet on her hand lifts the spirit to bring life and love to many. Come join her on this great journey with the puppets. See their videos at MEET THE PUPPETS and the YouTube Channel! See their pictures at View the Being Mean isn't Cool Puppet Session at Elmer Wolfe Elementary, Bereavement Camp 2013 and the 2015 St. V's Puppet Presentation.
Dr. V and the Puppet Friends can't wait, be sure not to hesitate!
We have positive puppet messages to share, to show that we really care!
A special JOY awaits you!